For some people, a dream home isn't necessarily a grand manor with a ton of space and rooms for every person, guest, hobby, and pet. Instead, they appreciate something on the smaller, cozier side, with spaces that bring family and friends together, and are easy to care for. 
There are big benefits to living in a small house. A small home doesn't mean a cramped home if it's well-designed. At Frank Betz Associates, our small home house plans are carefully designed and built to maximize interior square footage. Our floorplans of all sizes feature open-concept designs, spacious owner's suites, ample closet storage, and much more.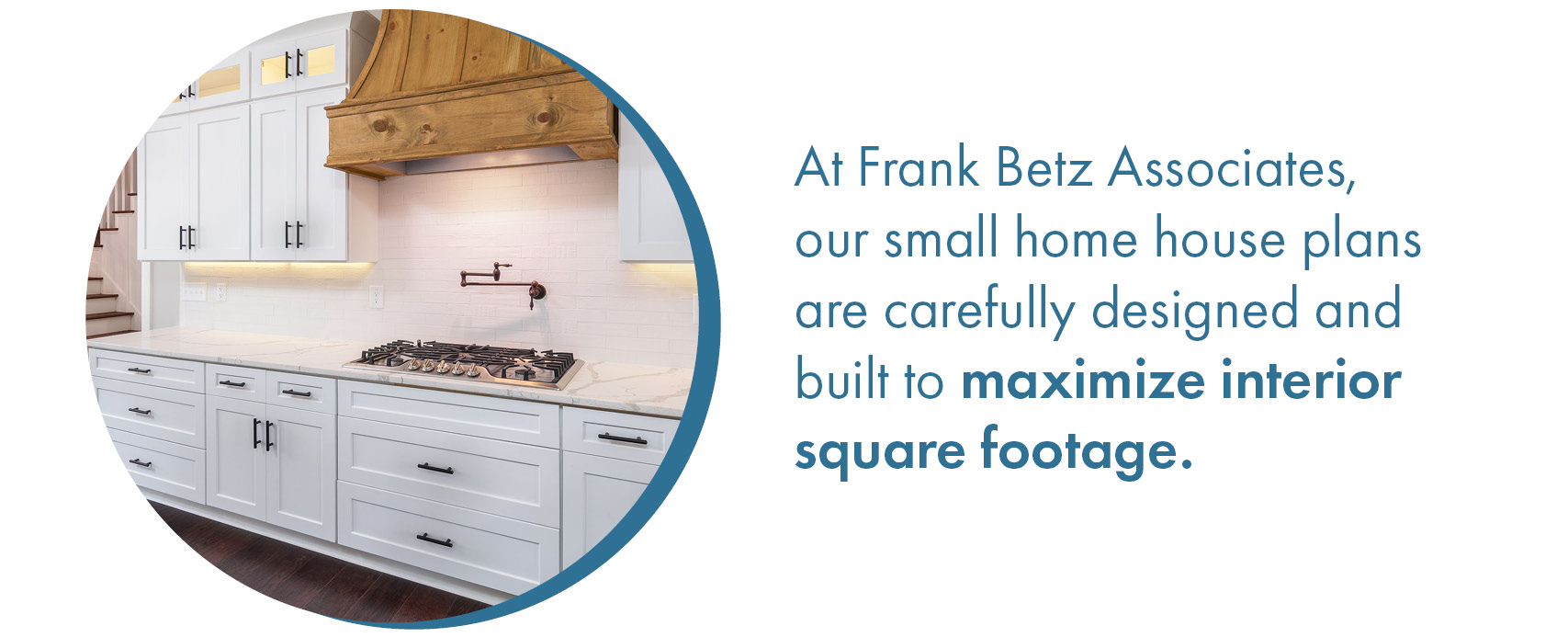 In this article, we'll share some of the advantages of living in a small house and a few details about our cozy house plans.
Advantages of Living in a Small House
There's no arguing that the bigger the house, the more time, effort, and energy are involved. Small homes require a lot less of everything! Here are just a few benefits of living in a small house.
Money
.
A smaller home typically costs less to build and maintain. That means a lower mortgage payment, lower utility bills, lower taxes, cheaper heating & cooling, and fewer maintenance costs. Just as important as spending less money is living below your means. Living below your means gives you peace of mind and flexibility if you have a financial challenge like losing a job or having a health setback.
Effort & upkeep
.
A smaller house is easier to take care of. There's no way to get out of housecleaning entirely, but if you have a small home, the process is much quicker and easier. Shorter cleaning time = more time to do something you want to do. Plus, with fewer rooms to tackle, a small home helps you cut down on clutter. And when it comes to upkeep, a smaller house means potentially fewer things to repair. When there are repairs, they will cost less compared to a larger house.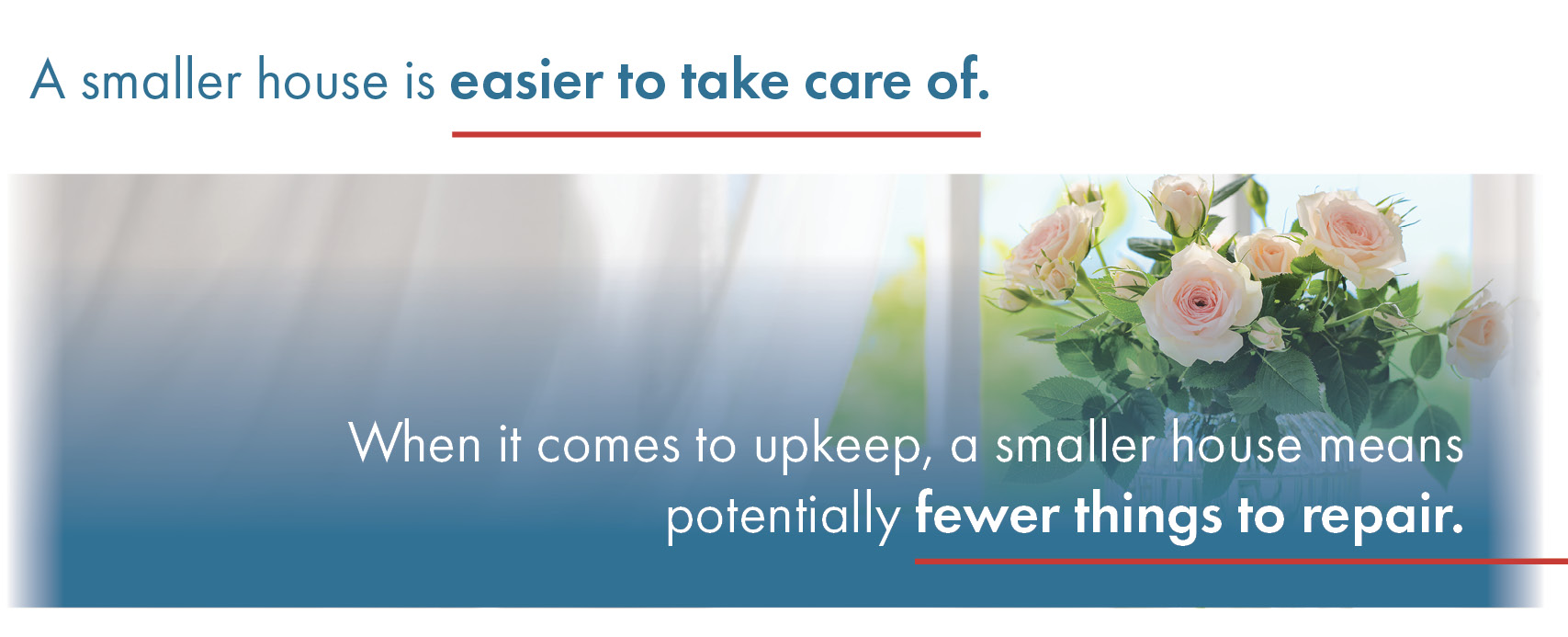 Unique & interesting style
.
One of the biggest benefits of living in a small house is having less space, so you'll be more thoughtful about what you bring into it. You have to consider colors and finishes, as well as scale. But you'll be able to focus on purchasing things you love, things that are better quality, rather than stretching your budget just to get something in each room. Custom cabinets. Elegant countertops. Built-ins. 
Warmth & coziness
.
Small homes tend to be cozier. They help families gather, and make them closer since they spend more time interacting. When you live in a smaller space together, you learn to work around each other,  play together, communicate more effectively, and respect each other's space.
What's Included in Our House Plans for Small Homes?
At Frank Betz Associates, our plans are created with the highest standards. Our House Plans include all of the drawings typically needed for construction, except for site-specific information and heating or cooling requirements. In addition to floor plans, our house plans include elevations, framing plans, and details sheets with miscellaneous specifications for interior trim and fireplace details that can be used to customize the home.
Our Small House Plans offer modest square footage but also provide modern amenities and features found in larger homes. Small in stature doesn't mean inadequate design. Our small house plans are sure to be welcomed in any neighborhood.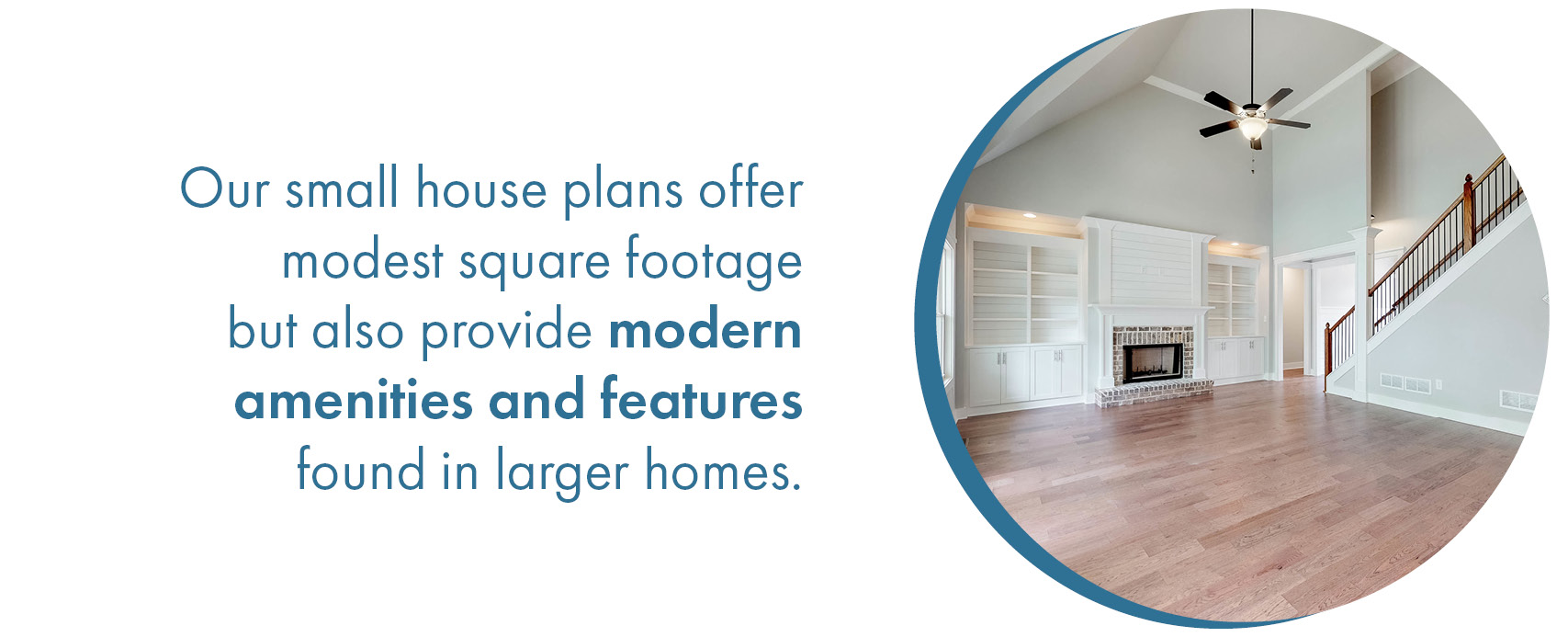 We have a wide variety of house plans for small homes (many under 2,000 square feet). One- or two-story homes. New England-style cottages or modern farmhouses, craftsman bungalows or classic Georgians. And though these homes may be under 2,000 square feet, we don't sacrifice on space or style. These plans are well-designed and make great use of every square foot. 
Turn to Frank Betz for Your Small Home House Plan
At Frank Betz Associates, our goal is to help you find the home you'll love to live in for years to come. Our search tool allows you to peruse more than a thousand designs. As you review plans, you'll want to consider and compare square footage, style, and most importantly, the floor plans. 
We have some simple steps to help guide you in your search. 
Search The Plans
.
To make your search easier, we have categorized our house plans in a variety of ways. You can search by design style, level, size, and more. TIP: Fill in fewer fields to see more plans. 
Save & Compare.
As you find plans that you want to consider, save them to your Favorites so you can compare them later.
Make Modifications
.
If you need to make changes to a plan, click the Modify button near the desired house plan. Simply fill in the form and you will receive a written estimate. Or call us at 888-717-3003.
Call Us
.
If at any time you need help, feel free to call 888-717-3003. We're here to make building your next home a great experience.
Send Us A Picture
.
When your home is finished, be sure to send us photos to cs@frankbetz.com!
If you're interested in building a smaller home, we'd be happy to help you find the perfect plan. Contact us to get started.