The term "farmhouse style" describes a home that is a bit different than it was a century ago. Back then, a farmhouse was just that, a house on a farm. It's where the farmers lived. Today, it's a very popular design for new homes and has dramatically broadened from a style standpoint. In fact, farmhouse style homes are being built throughout urban and suburban areas. And while the modern farmhouse style has definitely evolved from its days on the farm, its enduring appeal comes from the simple, clean lines, functionality and natural materials.
If the farmhouse style is what you want out of your home, there are a number of exterior and interior key features that will make it so. First and foremost is the front porch. The front porch provides a nice transition from the exterior to interior. Back on the farm, shoes fresh from the fields needed to stay outside and the porch was that place. That may not be the case today, where a front porch allows for casual seating and a warm welcome.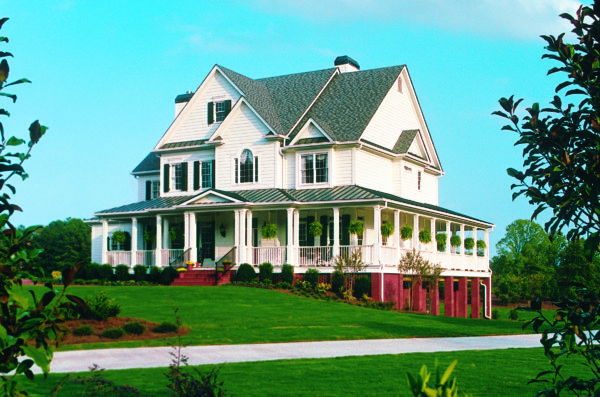 The farmhouse style floor plan gives ample room for a growing family with a large kitchen and dining area for entertaining. It usually features 3 plus bedrooms, a fireplace in the family room, a mudroom to keep coats, shoes and bags, and a covered back porch for additional living space. Vaulted ceilings and large windows for natural light are also telling elements of the farmhouse style.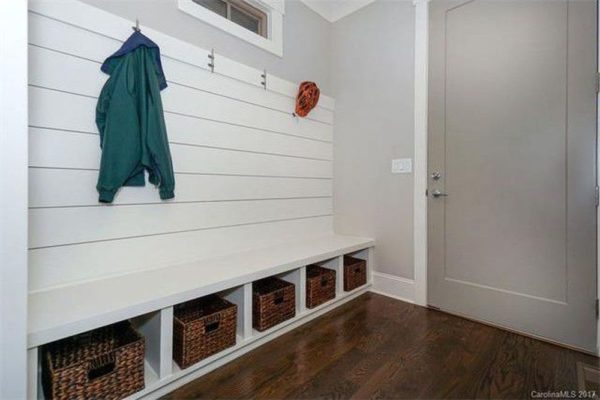 The kitchen is a place where the farmhouse style can really shine. A farmhouse style kitchen is large enough to be the central gathering room for the family and an area for dining and entertaining. A most recognized mark of the farmhouse kitchen, is the farmhouse sink. Originally the workhorse of the old farm kitchen, its distinctive style and large size make it a go-to sink for the farmhouse look. Other interior kitchen accents include the use of natural and rustic materials like shiplap and reclaimed wood. The farmhouse style kitchen's large, open floor plan also provides room for a kitchen island and a sizeable dining table.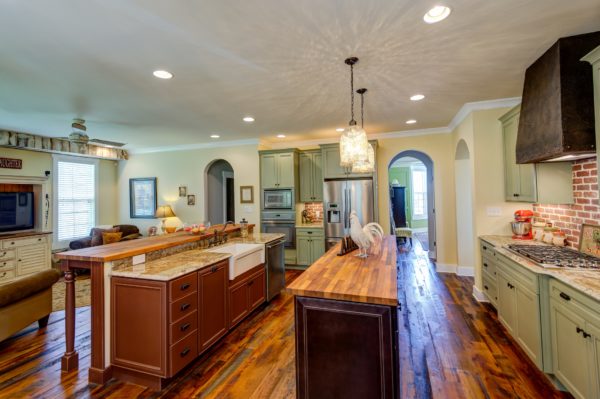 Overall, the farmhouse style works nicely in an urban, suburban and even coastal location.
One of its most attractive attributes comes from its broad style flexibility. It's clean and simple exterior and interior design allows for modern finishes and furnishings, as well as, the more traditional country décor. Anything with a handcrafted and practical look helps capture the farmhouse style. In our hectic, modern world, the farmhouse style has gained popularity as a way to connect and recapture the true essence of home. The farmhouse style represents an authentic and inviting American lifestyle, where the house is truly part of the family.