While there's no place like home, the truth is, there's no place like YOUR home. Which begs the question: What is YOUR home? More specifically, what's in your home? Are you satisfied to take an existing plan and tweak it a little or do you have a wish list that will only be fulfilled by a custom design? Let's have a little tutorial about custom home plans and stock home plans.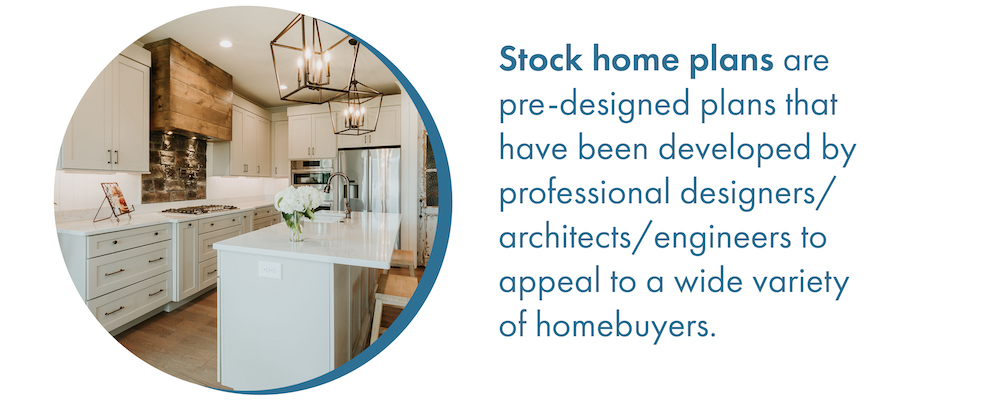 What Are Stock Home Plans?
Stock home plans are pre-designed plans that have been developed by professional designers/architects/engineers to appeal to a wide variety of homebuyers. Rest assured that pre-designed plans are produced with equal care and expertise as custom plans. These plans usually include the most requested features sought in a new home. Such features include common room sizes, traditional layouts, and in-demand amenities. 
The benefits of purchasing stock house plans include:
Saving Time

. Designing a custom home takes time. Compared to the process of designing a custom home, sifting through

stock floor plans

is a breeze. Before you even look at them, you can rest assured that the plans have already been reviewed to ensure they are structurally sound and safe. Consequently, you can begin construction more quickly. 
Cost-Effectiveness

. No two ways about it: building a custom home is expensive. Many homebuyers don't know that thousands of dollars go into design and development. With stock house plans, however, the design and development process is already complete. While stock plans may not meet all your requirements, the lower pricing allows some wiggle room for modifications or customization. Thus, stock home plans are an incredibly cost-effective way to build a new home. 
Variety

. Stock house plans are available in a

variety of styles

, from Craftsman to Country to Cape Cod, and are designed to meet many different specifications. With such a broad selection to choose from, you can really get a feel for what you like and don't like before making any final decisions.
Personalization

. Our designers are able to make

frequently requested modifications

without a lot of extra fuss. This means if you can't find plans that are exactly what you want, you can easily customize your home plans to meet your family's needs.
Long-term value

. Homes built using stock house plans feature room arrangements and other amenities that appeal to the general population, which can make the home easier to sell. These plans have proven value since they have been purchased, built, and resold throughout the country.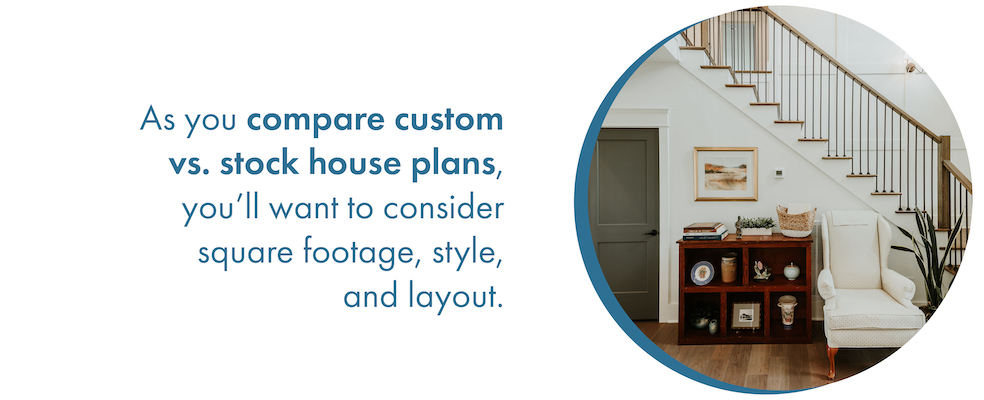 A Comparison of the Two Floor Plans
At Frank Betz Associates, our goal is to help you find a home you'll love for years to come. In order to do that, you need to find the perfect floor plan. As you compare plans, you'll want to consider square footage, style, and layout. Finding the plan that fits your needs may involve comparing stock plans and custom plans. Here are some of the essentials of stock plans vs. custom plans. 
CUSTOM HOUSE PLANS
Get exactly what you want

.

Working with Frank Betz Associates

, you help decide on the size and style of your home. You can request specific features and personal touches, too. 
Design to suit your land

. The home can be designed to accommodate specific elements or features on the property such as a sloping lot or rocky ground. 
Consider the expense

. Custom-drawn plans are costly when compared to stock house plans. The larger the home plan, the more design time it will take, resulting in more expense. 
Timeframe

. If you have a strict timeline or have a projected move-in date, think about how much time it will take to design and develop your plan. Starting from scratch can be a rather lengthy process. Do you have time to wait?
Communication skills

. You need to communicate well. It is vital that you can express thoughts and ideas easily to your designer. You do not want to waste time and money due to miscommunications.
Ensure your new home meets code

. Drawing a plan from scratch allows us to include all structural elements to meet building codes.
Many decisions & choices

. If making decisions is not your cup of tea, you may find this process tedious. You will have to answer seemingly endless questions about the layout, room sizes, exterior details and trim, special features, design elements, etc.
STOCK HOUSE PLAN
Quality & variety

. The

varied designs

offered in stock plans have already been approved by many builders and/or homebuyers. There's something to be said for that kind of peace of mind. 
The same but different

. Because they are stock plans, it is almost certain someone else has already built that house. While you may never see this same home, you'll always know your home is not unique. 
Budget-friendly

. From selection and quality to convenience, stock plans mean you can get what you want without paying too much. Local laws may not require an architect's seal on house plans, therefore the costs can be less than fees for "sealed plans". Check with your local building department to verify whether or not your plans require an architect's or engineer's seal. 
Flexibility

. Even if it's a ready-made design, some minor modifications can still be made fairly easily to a stock plan. Note that while you can make minor changes to a stock plan, they are not extensively customizable. The plan may work now, but it may not address what you need in the future.
Timeline

. Since there is no development and design time, your stock home plans will be available quickly. 
Local building codes

. Every time a stock plan is built, it may need to be adjusted to local building codes. Stock plans may need to be modified accordingly. 
Easy & straightforward

. Since the designs are already done, there are fewer meetings and decisions to worry about. Easier on the budget – and the blood pressure!  
Connect with Frank Betz Associates Today!
Whether you choose a stock home plan or a custom home plan, a Frank Betz plan is a good investment. Frank Betz Associates is an excellent resource for house plans that appeal to all kinds of homebuyers. Call, email, or visit us online for questions and information about our house plans.