Similar to an airlock on a space station, the mudroom is a vital transition area between the outdoors and indoors. Coming in from outside, it's a place to take off and store your outerwear and other daily belongings. When leaving your home, it's the last stop to gear up with the needed essentials. Coming or going, a well-designed mudroom is an essential part of any home.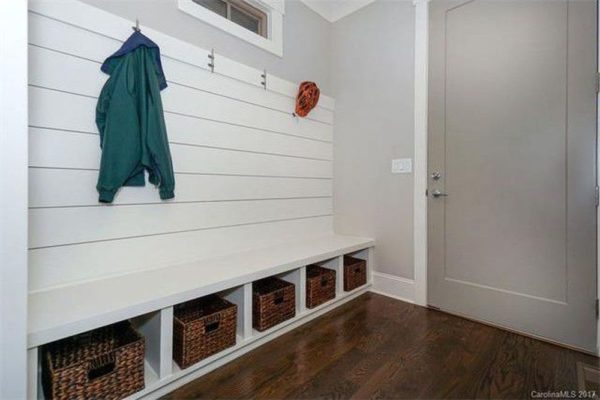 A heavy traffic area
One of the keys to a properly designed mudroom is making sure it's located adjacent to the most used entry way. Consider what door your family will be using the most often and that is the place for the mudroom. This is probably the area where everyone's shoes, boots, gloves, coats, backpacks, keys and hats will live. So, it should be designed into the floorplan according to convenience and easy access to your home's most popular doorway.
Everything in its place and a place for everything
Accessibility and organization are two very important components to a functional mudroom design.
Built-in shelving and cabinets are nice for storage. While racks and hooks to hang coats and hats make getting in and out of the house more efficient. If there is room for a bench, not only will it provide a comfortable place to sit while removing shoes and boots, but with the right design, the area under the bench can be utilized for storage, as well. Installing a small mirror is also a nice amenity, for a last-minute look before you head out the door.
Size is relative
Beyond location, the size of your mudroom should be determined by the number of people and pets in your home. Remember, with each person comes at least one set of shoes, a coat and hat. And for our
four-legged family members, you'll need room for a leash and outdoor toys. If there's space for its own room great, but a mudroom can be designed into a hallway, laundry room or larger closet.
Durable materials
The very definition of a mudroom describes a place where muddy and wet clothing is taken off before entering the rest of the home. It's there to protect the rest of your home from the outdoor elements. With that, a mudroom should be designed using materials that can handle dirt and moisture. Tile flooring or an easy to clean rug will help keep things tidy. Metal hooks and wire baskets are also moisture resistant features that make for durable storage and organization.
All told, the mudroom should be designed for function. It is a place to keep outdoor clothing and any other daily items used outside the home. But just because the mudroom is designed for utility, doesn't mean it shouldn't be attractive and complement your home. Incorporating the same color pallet and material styles will help weave this room into your home's established décor. Yes, it is a mudroom, but it can be a beautiful room, as well.