Spring is here! And that means warmer weather is on its way. No more waiting for the car windows to defrost or wearing that extra layer of clothing. Another great thing about the coming warmer weather is getting to enjoy the outdoor living spaces in your home more. There's nothing like having a comfortable space to take in the sun's rays or simply having extra room for hosting get-togethers. If you're looking to design a custom home, Frank Betz Associates is here to help. We create custom house plans and offer modification services to truly design the home of your dreams. With Frank Betz Associates, you'll be able to include outdoor spaces that add the perfect touch to your home. Here are some ideas to get you started!
Which Outdoor Space is Right For Your Home?
Outdoor Kitchen/Dining Room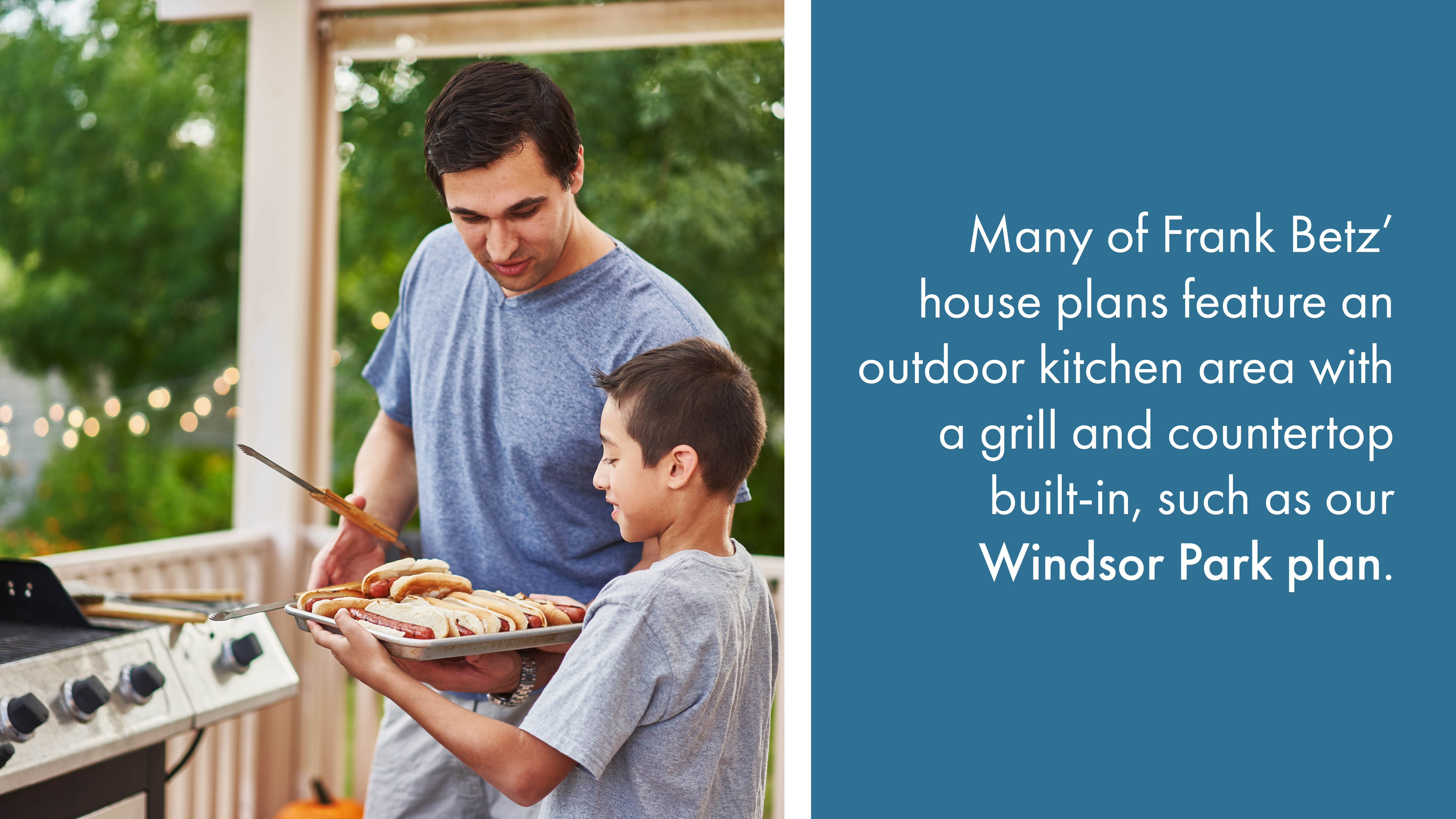 Did you know food can actually taste better when eaten outside? It's true! Many of our house plans feature an outdoor kitchen area with a grill and countertop built-in like our Windsor Park plan. Take your backyard barbecue to another level with the addition of an outdoor kitchen and dining room. It allows you to enjoy your meal straight from the grill to the table and might inspire lively Taco Tuesdays in the summer with the kids or a 7-course tasting menu of seasonal ingredients and wine for guests. Simply add a nice table and chair set, an overhead covering for some shade, and some outdoor decor and plants to tie it all together and add a garden-like feel. 
Outdoor Living Room
Dining rooms are typically adjacent to the living room, so why not also include an outdoor living room in your home's design? It's a great way to get out in the fresh air and sunlight while still having a setting that's just as comfortable as your indoor living room. Add furniture like a couch, a chaise lounge, some chairs, and small coffee tables or ottomans. Consider pieces for the kids too like swings or a fun bean bag chair and maybe some outdoor games. A fireplace is another great addition to your outdoor living room. Imagine roasting s'mores on chillier nights or gazing at the stars near firelight with your partner.
Ground-Level Deck & Patio
Many outdoor living space ideas include hardscapes, any non-living landscaping elements like paved patios and walkways, fire pits, water features, and sitting or retaining walls. A ground-level deck and patio set will typically have some of these features. While you could just have one or the other, having a ground-level deck that transitions into a paved patio can allow you to have a designated area for whatever you want. Perhaps the dining and living room ideas mentioned earlier or a sunbathing and fun outdoor games area. You can turn your outdoor spaces into something totally unique or keep them simple and match the indoor living spaces of your home. It's up to you!
Deck With A Porch Roof
Adding outdoor living spaces to your home doesn't always mean you have to subject yourself to direct sunlight. That's why covered outdoor living spaces like a deck with a porch roof are a wonderful way to shade yourself from the sun and still enjoy its light. They're also a way to smoothly connect the inside with the outside. You can add a covered deck that extends from your home and leads into an open patio. This is great for many celebratory occasions that include guests of all ages. The adults can chit-chat under the porch roof while the children play in the yard.
Deck & Sunroom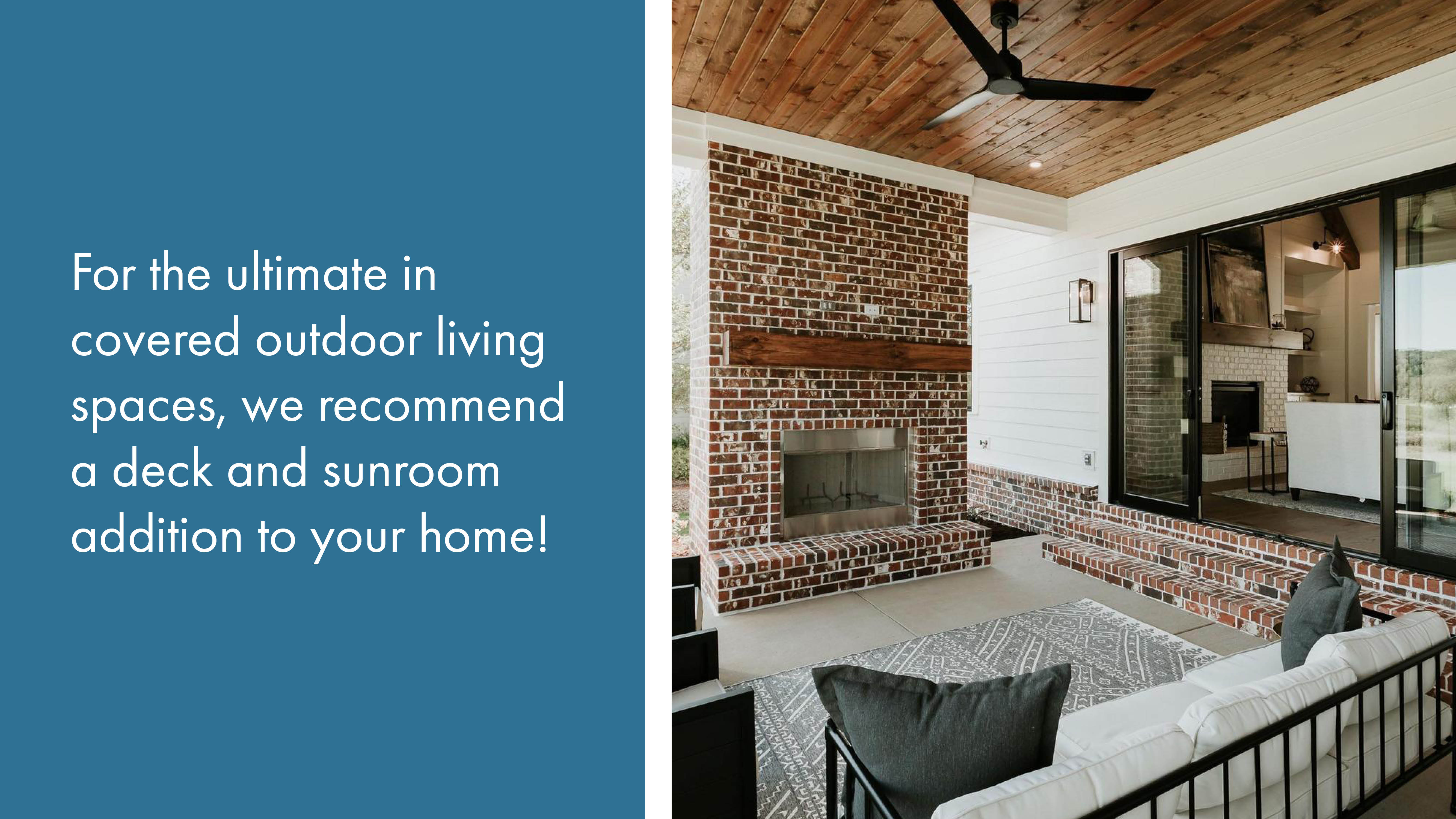 For one of those ultimate covered outdoor living spaces, we recommend a deck and sunroom addition to your home. Instead of just a roof, you would have a fully enclosed or at least fully screened room plus an outdoor deck. It's the perfect combination for an extra living space for guests and an outdoor space everyone in the family can enjoy. Relax on a comfy lounge chair with a good book on a cloudy day or enjoy a yoga session outdoors on a sunny day. You can't go wrong with this outdoor living space idea!
5 Structures That Amplify Your Outdoor Space!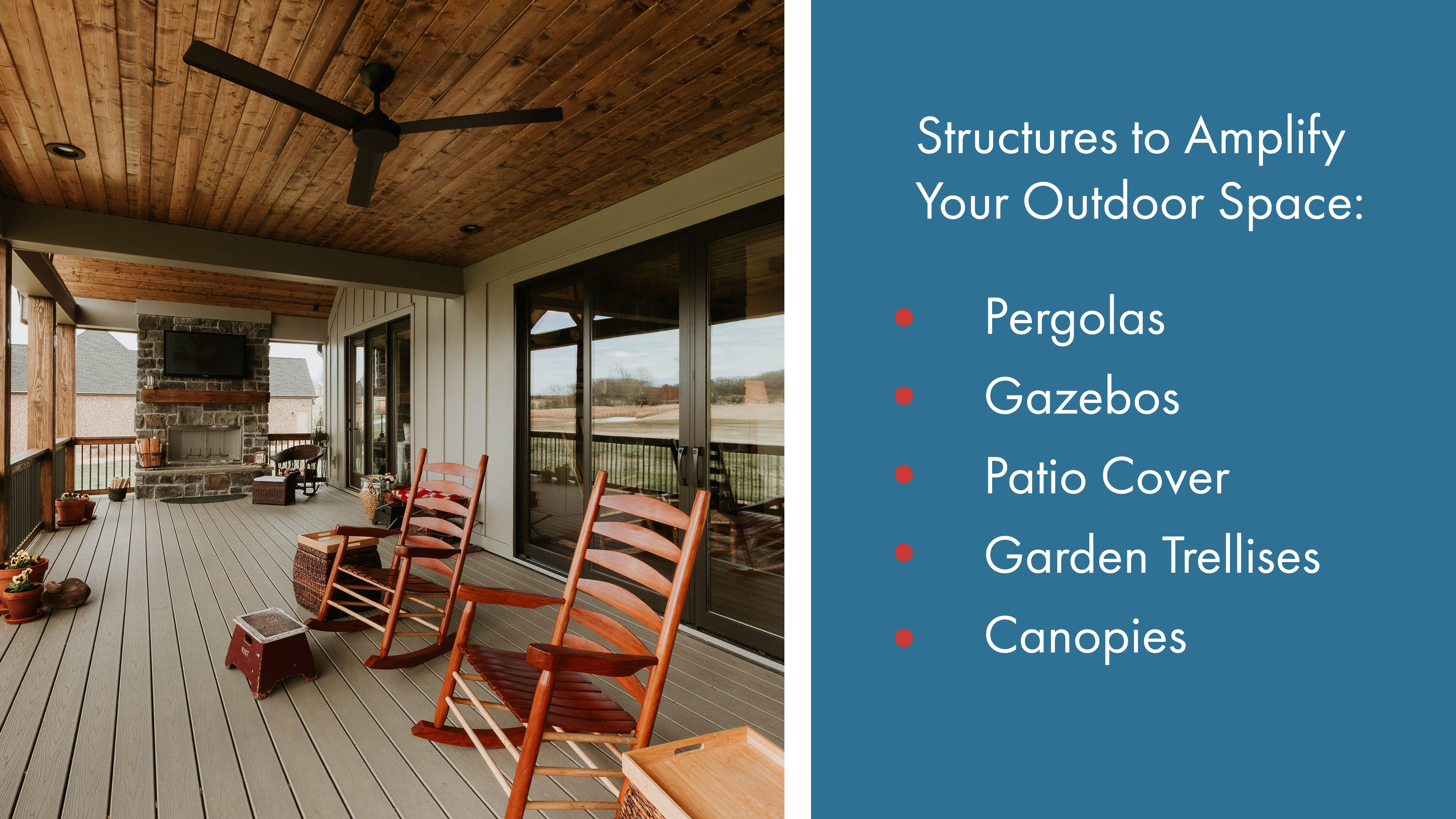 1. Pergolas
You may have heard of these popular outdoor structures as they are one of the most popular types. The structure consists of columns that hold a beam and a rafter roofing grid that can be covered for protection from certain weather conditions or exposed to let sunlight peak through. They're great for boosting the design of outdoor dining and living rooms.
2. Gazebos
A gazebo is one of the more permanent structures you can add to one of your outdoor living spaces. They're typically made out of hardwood or metal and come in a variety of designs and styles. Though you might think gazebos are only for wedding venues or parks, they still make a great addition to our house plans.
3. Patio Cover
If you're looking for a much simpler structure, a patio cover is a great choice! There are many ways to construct and design them. They can either be connected or a separate piece from your home, provide partial or full coverage overhead and use a range of materials and cover patterns like a lattice.
4. Garden Trellises
A beautiful garden trellis is a great complementary structure to your outdoor spaces and they're simple to install and multi-functional, adding to their popularity among many homeowners.
5. Canopies
Another simple yet complementary structure you can add is a canopy. They typically protrude from the home's roof and can be see-through or solid using glass, fabric, or steel covering materials.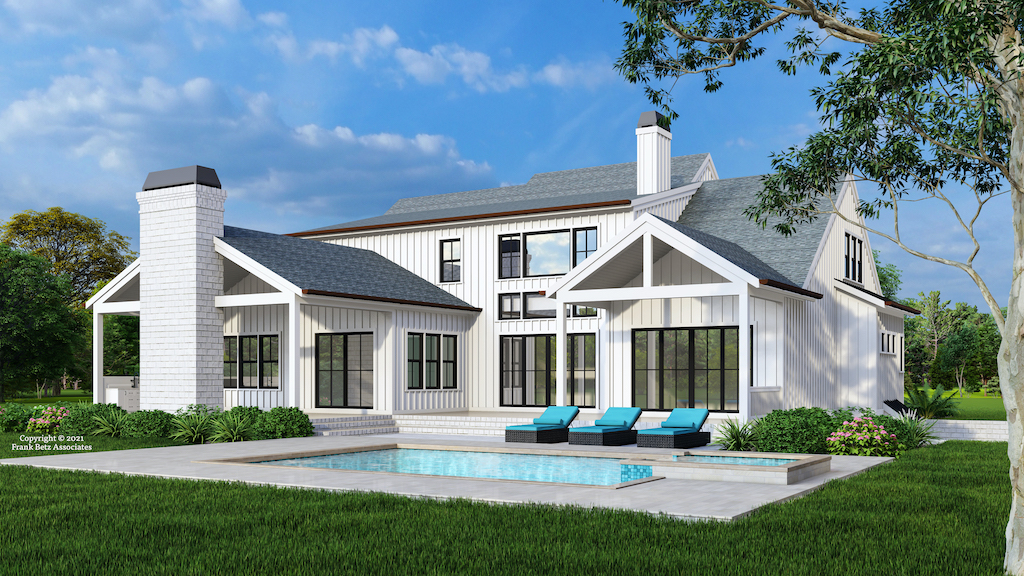 Connect with Frank Betz Associates Today!
Thanks to our partnership with Main Street Designs, here at Frank Betz Associates you can make additional modifications to our customizable house plan designs. The home you've been dreaming of is not out of reach with us! Make sure to browse our house plans on our website and contact us with any questions.