Whether you're looking to build your primary residence, a vacation home, or an investment property, the first thing most consider is location, location, location. This is a common phrase used by real estate agents and investors alike because it really is one of the most important aspects of building a home. The location you decide to build on is probably based on several things, like proximity to conveniences, the lifestyle of the area, and the surrounding views or scenery.
Once you've selected the lot of land you'd like to build on, the next step to consider is the house design, square footage, and, more importantly, the floor plan. The floor plan you choose is important because you want to be able to fully maximize the gorgeous views of the location you've fallen in love with. Frank Betz Associates has numerous floor plans to choose from that can do just that. Here we'd like to highlight three floor plans we think would be ideal for a vacation home.
Allegheny – Luxury Holiday Living
The Allegheny offers plenty of room to enjoy a fun-filled family vacation. Whether it's near a glistening lake or high in the mountains, this floor plan allows for beautiful views and quality family time. As soon as you walk into the front door, there's a streamlined view through the great room into the porch. A set of French doors leads the way to this covered porch with its own fireplace for a cozy, chilly night. There's also an entrance through the master bedroom for an even cozier night watching the sunset with your partner. 
If you've chosen to spend the holidays with a group of families or if your family is particularly large, this floor plan boasts several sleeping areas and spots for entertainment. Depending on the weather, you can host a huge family dinner in the dining room, lower level terrace, or out on the deck. Build your own mountain of memories playing board games or other fun activities in the oversized recreation area or separate game room.
From the deck to the porches to the terrace, there are ample areas to choose from to view every angle of the beautiful scenery wherever you build. 
Glenville Overlook – The Peaceful Re(tree)t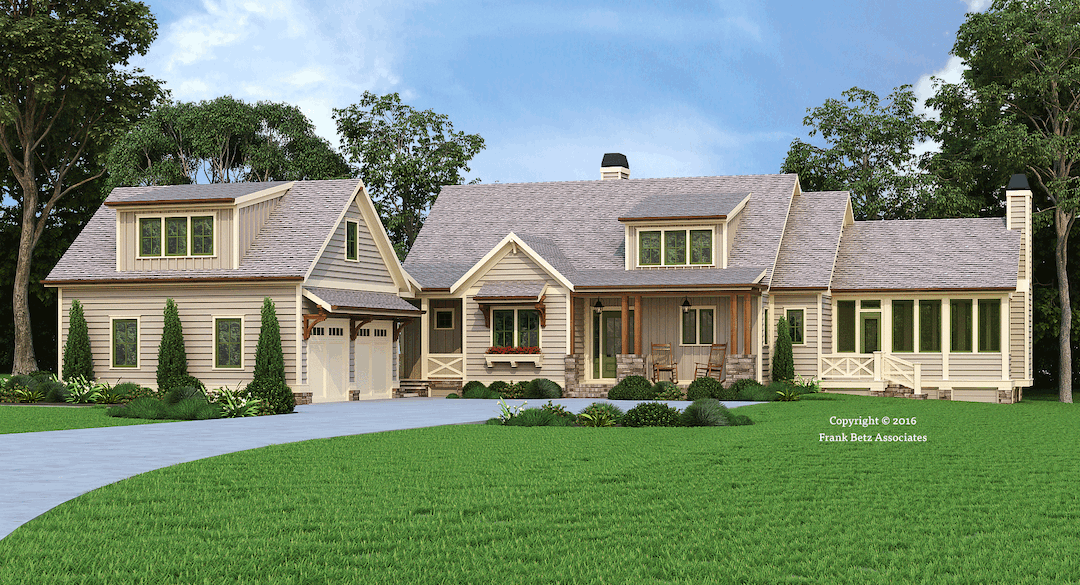 The Glenville Overlook floor plan is ideal for vacations in the mountains and cooler climates. Here you can invite friends and family to enjoy a relaxing vacation. With several bedrooms, a bunk room, a bonus room, and a computer nook, there's room for everyone. Every room is built to let in an abundance of natural light. Wake up early to the fresh smell of trees or ponder over a vast hillside. This floor plan is perfectly built for sloping lots, hills, and mountain sides. 
After a long day of adventure, take advantage of the expansive front screened-in-porch or back deck. Grab a quick nap or catch a cool breeze while reading a good book. This floor plan also features a detached garage that can be placed on the building site where it won't obstruct a fabulous view. You'll find another sweet retreat on a quaint porch located off the mudroom and breezeway. You can spend hours enjoying the views from multiple areas of the home, all while relaxing in your glorious, spacious vacation property.
Lake Pointe – Warm & Welcoming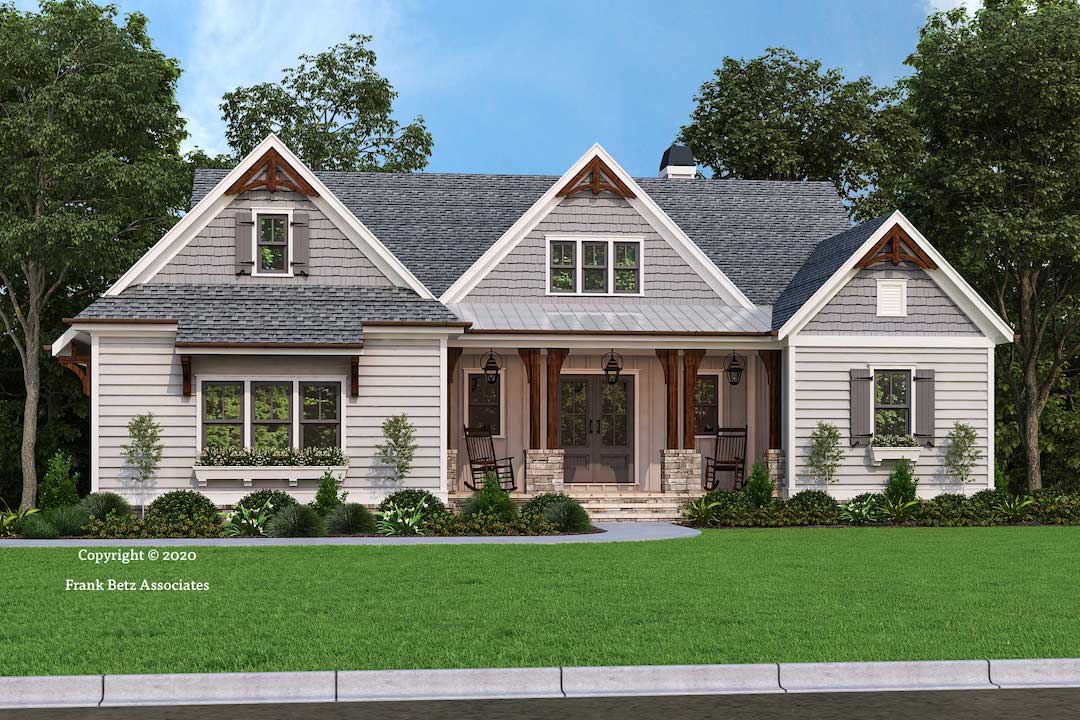 The durable materials used to build the Lake Pointe floor plan make it the perfect selection for any climate. Its exterior design alone incites a warm and inviting feeling. The front porch is donned with timber columns and on stone pedestals that invite guests to settle in its cozy atmosphere. After stepping through the front door, you'll find a wide open concept that provides an easy flow through the home's main spaces. It also gives a straight line of sight to the covered back porch, bringing the outside views in. Large window groupings also allow ample natural light to flow throughout the first floor.
If you've chosen a lot near water, mountains, or golf course views, this floor plan is a delightful choice as the master suite is perfectly positioned to take advantage of the magnificent views. With a large kitchen island and a grand room, you'll be able to host many family gatherings. Additionally, the terrace level bedrooms and family room allow extra space for movie nights or simply relaxing for the evening. Use the covered porch as another extra living area and enjoy the outdoors in any weather. The rest of the additional square footage on this lower level provides tons of storage space so you and your family can keep items safe for every time you visit.
Wherever you choose to build and for whatever purpose, you'll find a Frank Betz house plan to exceed your expectations. Finding the right floor plan for your vacation home is even easier with the multiple filter options you'll see on our website. We hope you'll consider one of these highly recommended floor plans, but if you still need help searching, give us a call at 888-717-3003 or connect with us online today. We're happy to help!