Some things truly never go out of style. Like the ever popular Craftsman house plan. Built out of the early 1900s Arts and Crafts movement, the Craftsman style homes were a rebellion against the mass-produced, excessive, ornate Victorian styles that were popular at the time.
It's not hard to see why this house plan is still among one of the top-selling house plan styles we offer at Frank Betz Associates. We make sure to stay true to the architectural simplicity while implementing a modern twist by featuring several key characteristics of this style such as wide porches, thick support columns, low-pitched roofs, and exposed beams.
When building a new Craftsman house plan, it's important to note that while this style of home already stands out with its unique architectural features and designs, there are a few different ways to make yours even more outstanding and eye-catching.
A Carefully Chosen Color Palette
Though the Craftsman house plan can stand out on its own, choosing the right color palette can highlight many of its architectural details. Playing with nature-inspired color combinations typically goes well with these house plans, so think of using shades of green, brown, and other earthy tones. This is a great way to keep the home feeling welcoming and warm before stepping inside.
If you prefer a more modern look, you can still highlight the uniqueness of these homes by using grays, navy, and cooler tones. Then use white or off-white for the trim and columns to really pop against the main home color.
Most importantly, when it comes to choosing a color palette, make sure to test different combinations and see how they look together. Play around with different tones for different elements of the home to see how they work, especially in the sunlight. Luckily, many of our Craftsman style homes are made with natural materials like stone, brick, and wood, which gives a nice starting point to build the colors from.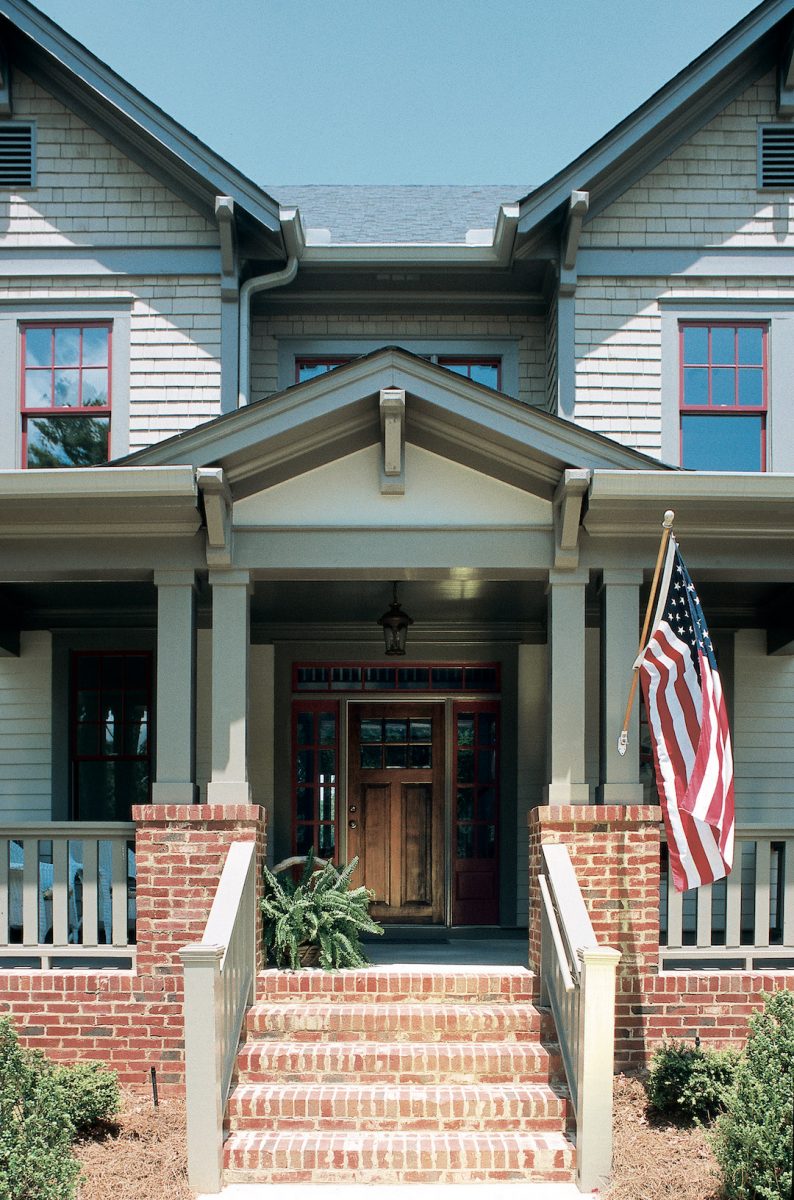 Low-Key Landscaping
One of the major keys to creating an appealing view of a Craftsman house plan is by sticking to the KIS (keep it simple) method. Overcrowding of bushes and shrubbery, unless a natural part of the lot, can bury the beautiful craftsmanship of the home. Think about planting smaller bushes, flowers, and greenery native to the area you live in. Also, place the plants in unique patterns along the exterior of the home to enhance the overall appearance.
Another important aspect of the landscaping for this style of home is the walkway and wide porch. There are many opportunities to embellish the natural elements of its architecture without going overboard. You could create the walkway using the same elements used in the home's exterior, like stone or brick, or you could frame the walkway with complementing flowers, plants, and rocks. The porch lends room for plants as well, but remember that less is more when it comes to landscaping.
Keeping It Natural
It's easy to get excited about setting up the decor of the interior of this house plan due to its open concept focused on building the rooms off of a centrally located family room or living room. When it comes to the exterior, it can be difficult to decide what will look best with this already attractive architectural design.
Things like lighting, porch furniture, and hardware can truly make the home feel more inviting and cozy for family and guests alike. A lantern is a simple touch that can add quite an impact to lighting the entrance. Keep in line with the natural materials of the home and bring in more warmth by selecting bronze and copper details. You can also create a sense of a cozy feel through Craftsman-styled furniture that you know will seamlessly fit the style of the home. 
Building a new Craftsman house plan with Frank Betz Associates is the start to having a quality-crafted, timeless home style with modern touches that stands out from the average conventional home style. When you're ready to build, we're ready to help. You can begin your search by viewing our myriad of Craftsman house plan options on our website or by contacting us at 888-717-3003.