When your family is growing or the kids are getting older, there comes a point when you just know you need more space — and sooner rather than later. Whether it's too many hands going in and out of the fridge in a small kitchen, the need for more separation (i.e. peace and quiet) between the primary suite and the other bedrooms, or not enough outdoor space to relax and let the kids run free at the same time, there's bound to be at least one nagging sticking point about your current home as your family expands. 
We get it. That's why we design house plans that are wide open, spacious on the inside and out, and can comfortably accommodate all your family members now and into the future. 
If you're looking for a new home to that will grow with your family, there are a couple of features you should always look for.
Top Features for Family-Friendly House Plans
Flex Space: Whether you need a dedicated space for homework, a game room for teens, or a serene yoga room for yourself, it's critical to have a bit (or a lot) of extra space that can be configured in any way you need, and can change in the future. 
Open Living Area: One way to make sure growing families spend time together is to have enough space to accommodate everyone in one area. Whether it's for a sit-down family dinner or a low-key movie night, memories are made when you're together. 
Spacious Primary Suite: Between work and family, you've got a lot going on. Hang on to your sanity with a private, spa-like retreat. Whether you prefer your primary bedroom suite to be upstairs or down, it should be large and luxurious so that you get the peace of mind and rest you deserve.
Lots of Storage: With people (especially kids!) come things. Our house plans feature large closets in bedrooms and hallways, spacious and functional laundry rooms, garages with extra space, and second-floor bonus rooms that are perfect as simple storage. Whatever it is that you have, our plans have a place for it.
Here are our top three family-friendly house plans: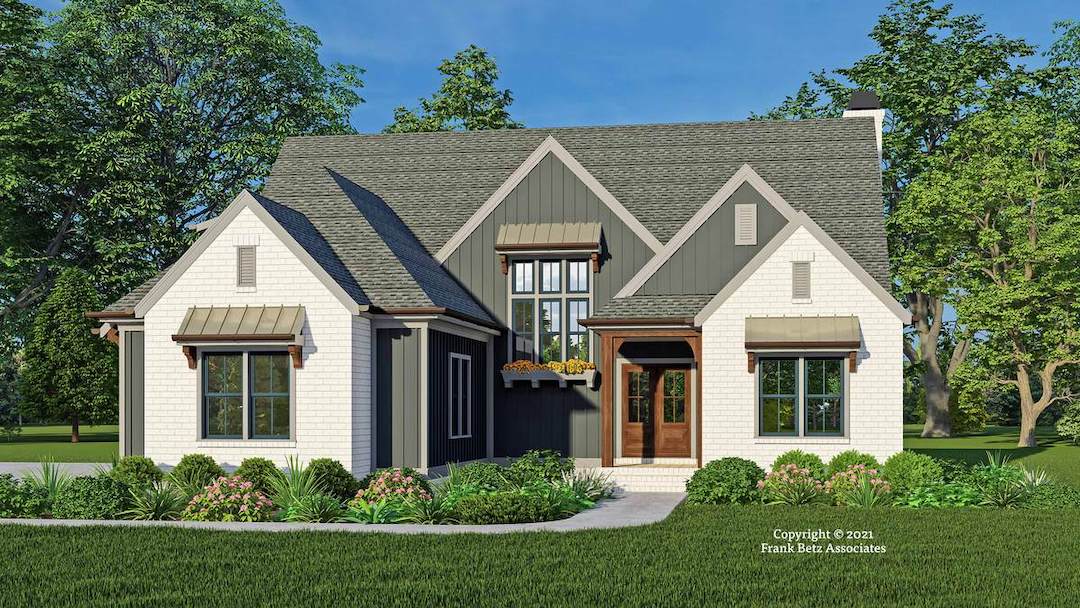 Selwyn Park – Designed for Active Families
4 Bedrooms | 3.5 Baths | 3-Car Garage | 2,906 Sq. Ft.
This beautiful home has all the bases covered for an active family of any size. The kitchen and living room are open concept, and flow right into a dedicated dining space that's flooded with natural light. Whether it's weekday breakfast or a holiday dinner, meals will always feel special here. The covered back porch extends almost the entire width of the home, providing ample space for outdoor living and play. For holidays and family celebrations, the spacious and completely private guest suite has an attached bath. Upstairs, two additional bedrooms are separated by a central bathroom with dual vanities. The optional bonus room is perfect for playtime, gaming, or kids' movie nights.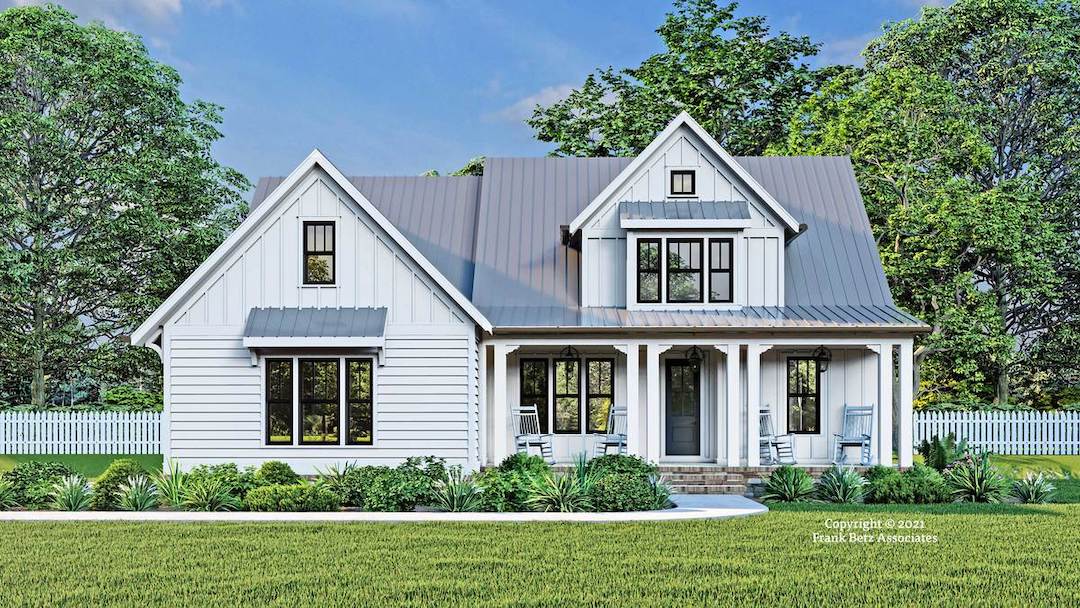 Wood Hollow – Warm and Welcoming
4 Bedrooms | 2.5 Baths | 2-Car Garage | 2,436 Sq. Ft.
This refined farmhouse cottage is reminiscent of a bygone era, but updated with a modern layout and beautiful details that make this floor plan a favorite for today's families. With its high-pitched roof, board and batten siding, and welcoming front porch, it's easy to feel like you belong here. The open design is perfect for both busy mornings and relaxing evenings. The first-floor primary suite offers convenience and luxury, while the upstairs bedrooms inspire peace and quiet. A large, optional bonus room can be a recreation area, home gym, or an extra storage space.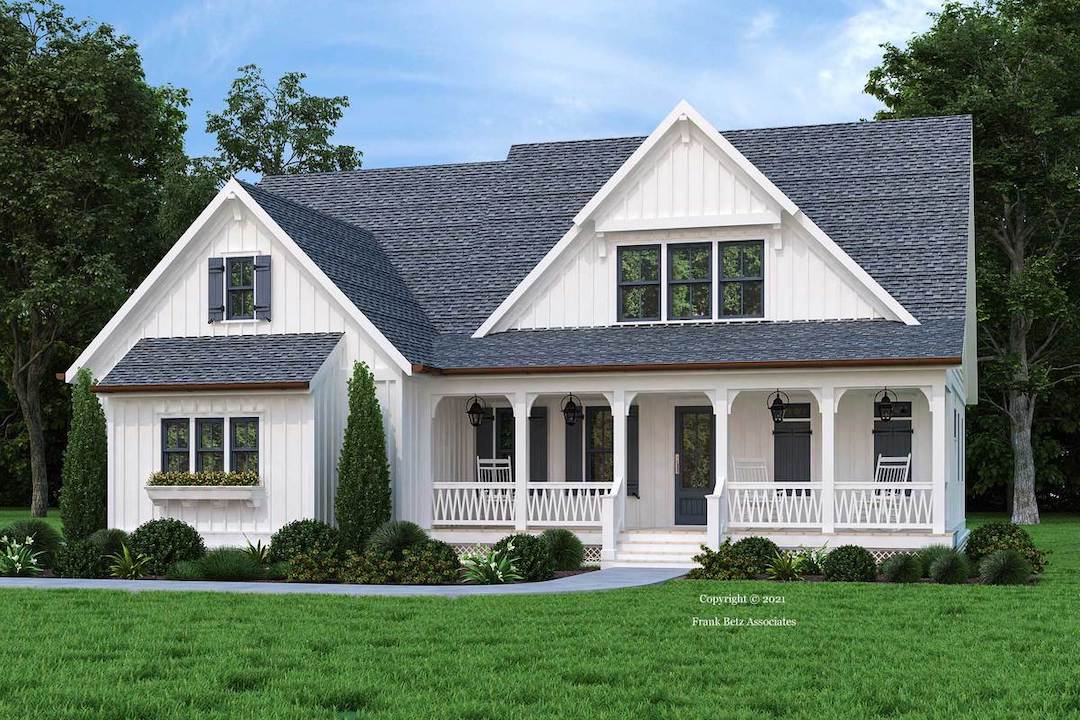 Haddington – Classic Style That Delivers
4 Bedrooms | 2.5 Baths | 2-Car Garage | 2,300 Sq. Ft.
A modern farmhouse design that's a family favorite, the Haddington has everything you're looking for in a new home. Whether you're hosting just your immediate family, or guests and relatives for holidays and celebrations, this home is built for any occasion. The elegant foyer opens up into a soaring living room with beamed ceilings, which flows right into the dining area and kitchen, complete with oversized island. Continue with the flow of the home and you'll find yourself relaxing on a covered back porch with a beautiful vaulted ceiling. Back inside, the first-floor primary suite offers a serene escape, while children and guests occupy themselves upstairs. 
If you're ready to make the leap from a house that just feels "OK" to an extraordinary home that will grow with you for years, explore these three house plans and the many more that Frank Betz Associates offers. This might just be the best move you've ever made.