A new stage of life often comes with the need for a different type of home. Finding the right family home floor plans is one of the most exciting parts of any new home search and Frank Betz Associates has countless options for you to choose from. Your home can be laid out in many ways and, with upgrade options, you can personalize it to suit your needs. With over 45 years of experience designing home plans, we have perfected our designs to meet your needs. Here are just a few of our best home floor plans for families.
Our Family Home Plans Are Spacious & Loaded with Features for Everyone!
From the size and shape, to where the rooms are located in relation to each other, every part of a home can affect your living experience. These floor plans for family homes range from 1,600 – 2,400 square feet and have optional second floors for additional space.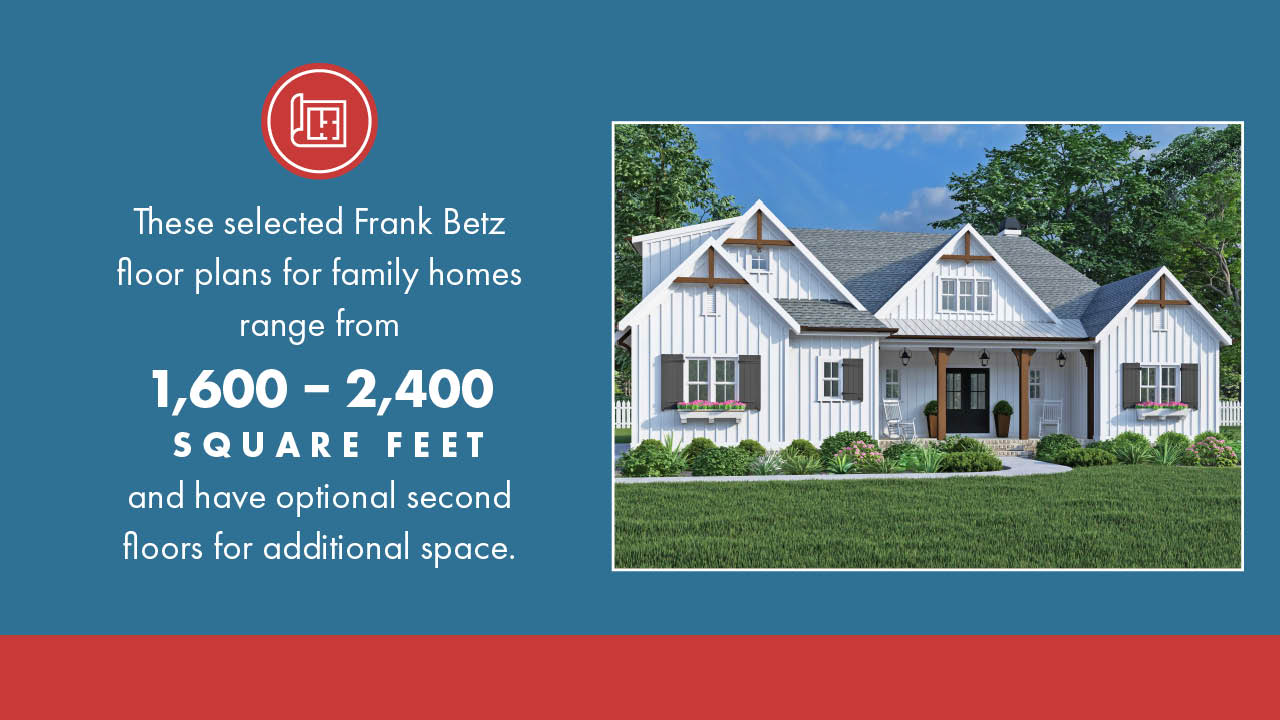 Allendale Farms
3 – 4 BR | 2.5 – 3.5 BA | 2,205 Sq Ft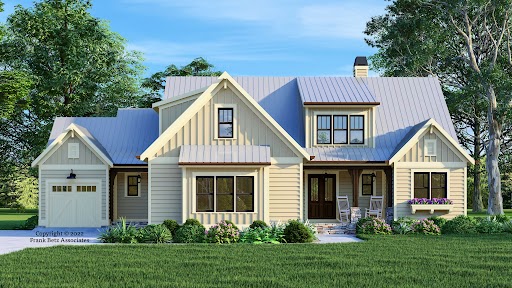 From the outside in, our Allendale Farms plan offers a modern farmhouse feel. This new one-story design reflects popular feedback. Once you're welcomed into the foyer via the covered front porch, Allendale Farms opens into a spacious layout. If you're a big entertainer, you'll love the airy, light-filled space anchored by the central family room. The kitchen can handle simple snacks, grab-and-go breakfasts, or family-size gatherings. Switch things up with brunch or dinner on the screened back porch. The adjacent covered porch has a fireplace and is a great place to relax. There's tons of natural light and a cozy ambiance in the family room with its vaulted ceiling and fireplace. The Allendale Farms plan features 3 bedrooms and 2.5 bathrooms within its one-story layout. The owner's suite is located in its own "wing" but still close enough to bedrooms 2 and 3 if one of the kids needs you. You'll have plenty of room and privacy to yourself with an extensive walk-in closet and a full bathroom with a soaking tub and a walk-in shower. There is garage space for three cars or a workshop. The optional 2nd floor can be finished to provide additional square footage. It contains a 4th bedroom, a full bath, and a multi-purpose bonus room. This all-new one-story design has everything you need.
Helmsly Park
3 – 4 BR | 2.5 – 3.5 BA | 2,355 Sq Ft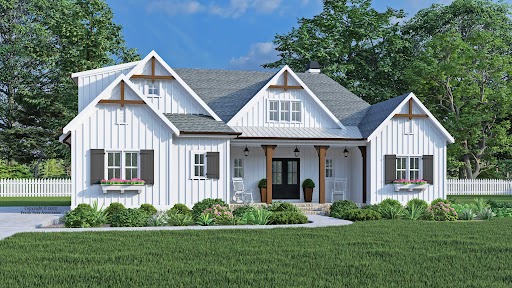 The layout of the Helmsly Park plan is sure to impress. After a long day, this modern farmhouse-style plan welcomes you home with a highly functional one-story layout. From the inviting front porch, you open the door to a spacious foyer and coat closet. Then, you're greeted by an open, light-filled living room with a soaring beamed ceiling and a fireplace. The adjacent kitchen and dining area are perfect for family dinners or larger gatherings. The kitchen has a generous island and a huge walk-in pantry. The covered rear porch extends your living and dining space and includes another porch space accessible from the owner's suite. Talk about paradise! Helmsly Park has all bedrooms on one floor. The owner's suite is far enough away from the other two bedrooms for privacy, but close enough if one of the kids needs you. It has everything you need for a personal retreat, like a soaking tub, a walk-in shower, and a large walk-in closet. The optional 2nd floor can be finished to provide additional square footage. It contains a 4th bedroom, a full bath, and a multi-purpose bonus room. The Helmsly Park is a bright and casual plan to consider for your family.
Logan's Bluff
3 – 4 BR | 2 – 3 BA | 1,627 Sq Ft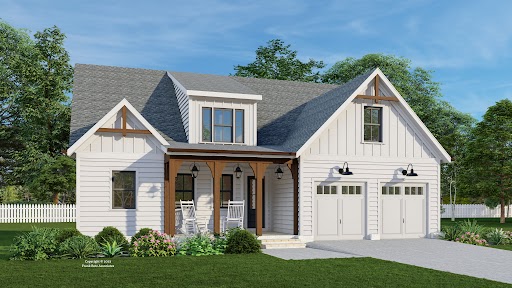 The Logan's Bluff is a great choice for those looking for a smaller one-story plan. Its warm, charming farmhouse style fits into any location, and it is equipped with all the necessities. There's plenty of room in this cozy home. The foyer opens into a large space for living and dining. The family room has a high ceiling and warming fireplace, and the adjacent kitchen and dining area lead out to the covered porch. Located off the family room, the private owner's suite includes a large walk-in closet and a huge walk-in shower. The two smaller bedrooms are on the other side of the house and share a full bathroom. Bedroom 3 is a flex room that can double as a workspace. The optional 2nd level adds another bedroom, a full bath, and a large bonus room that can be finished however you choose. There are many great memories to be made in this family-friendly one-story floor plan.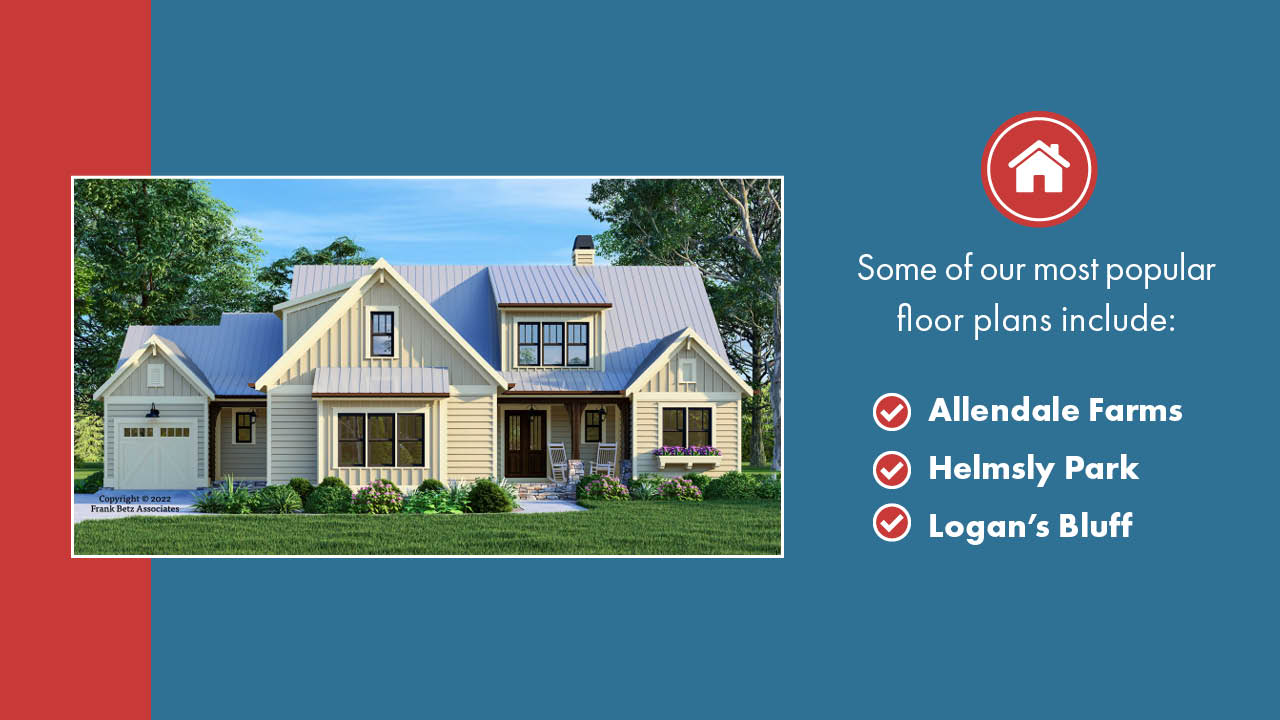 What To Look For In A Family Home Floor Plan
Planning your family home is the ultimate project. You've been dreaming about this, but need help to make the dream a reality. As one of the largest investments you'll ever make, you want to get it right. So we have a few tips for you.
1) Figure out what size of home suits your needs. 
Choosing a floor plan should start with how you live, what type of layout you want, and how you plan to use each space. How many levels do you want? How many bedrooms do you need? Think about the space you wish you had (or don't need) now and prioritize your most important needs.
2) Be honest about your needs and lifestyle.
Preferred features in a home differ depending on what stage of life you are in. Before choosing a home design, ask yourself the "big picture" questions: 
Is your family situation changing, either growing or shrinking?

Will you need dedicated space for visiting parents or grandchildren? 

Are you approaching retirement? Should you choose a plan that's great for aging in place? 

How do you entertain? Do you want formal spaces or more relaxed gathering rooms? 

Do you have hobbies or special interests that might require special rooms to enjoy them?
3) Look for a floor plan that fits your family.  
Every family has their own style, so choosing a floor plan that meets YOUR needs is essential.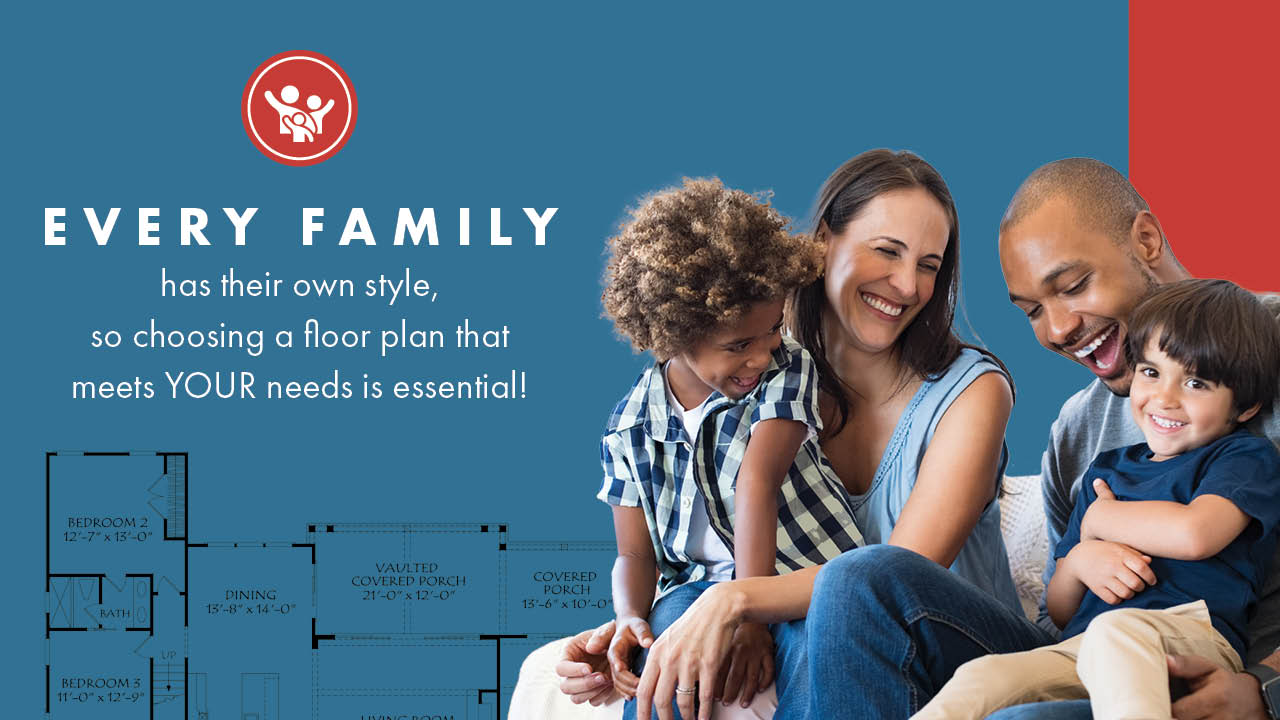 Do you have young children? You might want their bedrooms closer to yours. Are the kids older? You – and they – might appreciate a little bit of privacy by spreading out the bedrooms. 

Do you host Sunday dinners with extended family? Look for plans that include dining rooms large enough to fit everyone. 

Are you a multi-gen household? Make sure the plan is suitable for older adults. Look for no or few stairs, wide doorways, and a walk-in shower. 

Do you work from home? Consider a dedicated office space. It will help you be more productive and minimize distractions.

Do the kids need a rec room? Do you prefer to exercise at home? A multi-purpose, flexible space that can change as your family grows is a great option. 
4) Don't forget the bathrooms.
Not having enough bathrooms is a well-known pain point. In the ideal layout, there should be one bathroom for every two bedrooms in the house. If you entertain frequently, a plan that has a full or a half bath near the main living area is convenient. If the house has multiple floors, a guest bathroom downstairs is key. Also, look for primary bathrooms with dual vanities. This allows both partners to get ready without being in each other's way.
5) You can never have too much storage. 
No matter how organized you aspire to be, your family has stuff. The best way to minimize clutter is by having adequate storage in your busy zones: 
Kitchen – Maximize cabinetry and pantry space to ensure there is a place for dishes, small appliances, cookware, and food.

Mudroom – The place where backpacks, sports equipment, muddy shoes and coats gather… often in a pile. Reign in the mess with hooks, cubbies and shelves.

Garage – There should be enough room for the lawn mower, your golf clubs, the bikes AND the car(s). You might also want room for a work space, holiday decorations, and other items.
6) Think OUTSIDE the box. 
Don't forget outdoor space when looking at home plans. Do you entertain? Make sure you have enough room for a grill – and maybe an outdoor kitchen. Covered patios/porches are great for relaxing, family time, al fresco meals, and movie nights. 
Think about the space you need to be comfortable in your daily life. The best home plan for your family is the one that aligns best with your lifestyle.
Connect with Frank Betz Today!
You deserve a home that is comfortable and totally functional. Frank Betz Associates can ensure you a home like that. Browse through our flexible family home plans to find the one that fits your needs… then personalize it to your heart's desire. We look forward to helping you into the best floor plans for your family. Connect with us today to learn more.