Building a new home is a big investment, and it's understandable that you'd want it to look just as you envisioned. The opportunity to choose where it will be built, the floor plan, the exterior options, and the design finishes are all important decisions you get to make when building your dream home. And at Frank Betz Associates, we don't take those decisions lightly.
We want you to love your floor plan inside just as much as you love it outside. Here we'll take a look at an example floor plan that shows that you don't have to sacrifice the floor plan you love for the exterior you want. With Frank Betz Associates, you can have both! 
Huntington Ridge House Plan
When you first choose a house plan, you'll look at a lot of different factors. You may consider the number of bedrooms and bathrooms to accommodate family members and potential guests. You'll also take a look at the overall size of the house to make sure there's room for other things you might do day-to-day, like an early morning routine in the breakfast area.
Now, imagine you've found Huntington Ridge, the house plan that fits your lifestyle and needs perfectly. But then you realize you don't love the way it looks on the outside. Don't worry! You can modify the outside to fit the exterior aesthetic you are looking for. You'll still have the same number of rooms and floor layout, but now with an outside view, that feels right for your preferred style. The Huntington Ridge house plan offers 3 different elevations, each with their own unique touches, to choose from. 
Elevation A
This elevation option caters to a gorgeous, classy look. Its brick construction adds a historic, timeless beauty to the exterior. Also, brick is an optimal choice for keeping the house highly soundproof and weather resistant. This is perfect for those light sleepers and late-night entertainers. 
The house features gabled dormers to ensure enough natural light can beam throughout the top floor rooms. This feature is also a way to preserve the roof as it allows rainfall and snow to easily drain off, keeping it from collecting and building up. The colonial-style windows also allow an abundance of natural light to flow through the first floor and add to the classic, traditional appearance.
Elevation B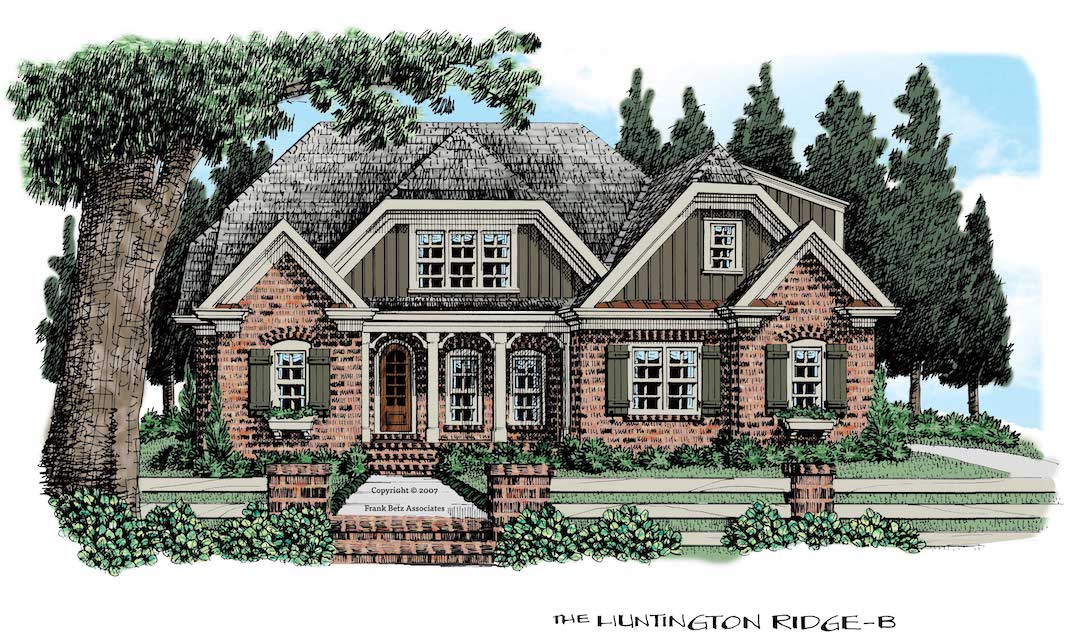 The elevation B option of this house plan beautifully blends brick and wood wall cladding to provide an elegant, classic look. Mixing these two natural materials adds a nice balance of different textures to the home. Not only does this exterior catch the eye with a mix of materials, but the flattened eaves across the top of the dormer windows give this exterior a different character. This elevation also uses an arching detail between the columns that perfectly frames the front door and windows beside it.
Hosting various sizes of windows, the board and batten shutters on each side of the house add symmetry and balance to the exterior. It lends itself to a more modern house design by connecting the different materials used for the exterior. This sophisticated element looks aesthetically pleasing and adds value to the home overall.
Elevation C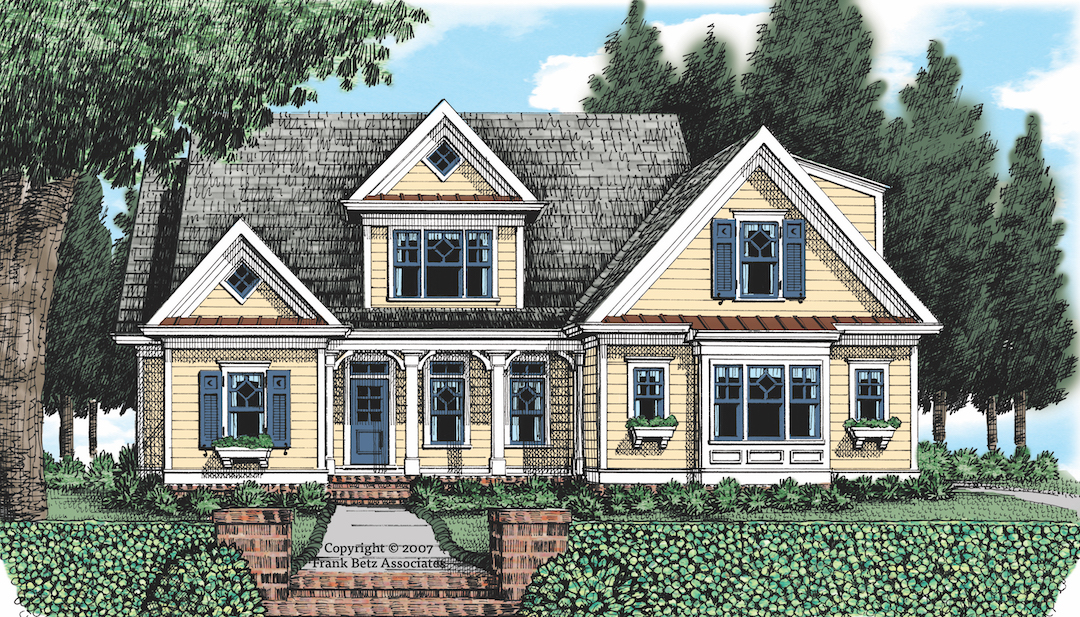 The third elevation option, C, has a unique set of features to make it stand out from the other two. It's a delightful country cottage equipped with a mainly wood material exterior. The front elevation of this option is a bit more simplistic with the traditional triangular gables, giving it a refreshing, welcoming look. Like the other elevations, this one includes multiple windows in various sizes to enhance the highly sought-after natural light most people want within a new home.
There are a couple of particularly nice additions to this elevation that make it so special. But the ones that stand out the most are the decorative window accents and the window boxes. The window designs used in this house plan elevation add an elegant touch to the overall look. It's a small detail that makes a huge impact on the house's exterior, making it much more visually appealing. Another special feature is the window box option. They offer another level of texture and dimension to the home, creating an exciting, eye-catching element.
Endless Options
When you build a new home with Frank Betz Associates, you'll be able to mix and match an array of exterior options to create the home you've been dreaming of inside and out. We offer an extensive selection of house plans and house plan elevations. Whether you want a dreamy cottage or a rustic farmhouse, we've got the resources to make it happen. 
If you have additional questions about how we personalize and build our homes, don't hesitate to connect with us online or call us at 888-717-3003. Don't hesitate to reach